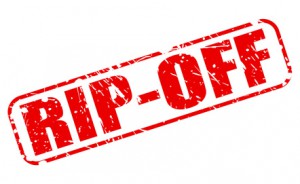 In a lot of ways, the Search Engine Optimisation industry is like the wild west – there are a lot of cowboys. In an industry that really has very little oversight and about which there is little 'general knowledge', rip-off merchants flourish and it can be difficult to find an ethical SEO company. Sure, everyone's website claims that they're legit and above board, but they're hardly going to brand themselves 'Dodgy Bros Inc', are they? In this article, we wanted to share some of the things we've seen ourselves and been told by our clients, so that you know what to look out for.
Client 1
This client was paying $1200 / month for his SEO from a very well ranked SEO firm. He decided to leave them as he just didn't feel that he was getting the results he wanted. Every time he called them to cancel, they used scare tactics and told him that without the Search Engine Optimisation they were doing, his site would quickly drop in the rankings and he'd end up dropping off Google altogether.
When we spoke to the client, he was unwilling to commit to the same monthly spend, so we came up with an SEO strategy that started at around half of what he had been paying for the first couple of months, then increased each month thereafter, giving him time to see the value in our service.
But wait, it gets better. When we took over his account, we logged into his website and couldn't find ANY SEO tools – no Google Analytics, nothing. When we called his web hosting & development company they were only too happy to turn on the SEO tools section of his site. This allowed us to create his Site Map and add his new Google Analytics account, among other things.
This begs the question – what, exactly, was his last Search Engine Optimisation company doing? They didn't build any links back to his site, they didn't even create, let alone install a Google Analytics account, there was no site map and there were certainly no articles created or any content added… The mind boggles.
Client 2
This gentleman was using an SEO group that typically appears on the first page of Google search results. He was paying $900 / month for his Search Engine Optimisation and while the company had gotten him to rank #1 for a particular keyword, he didn't feel like he was getting the results he wanted. He contacted us for a quote and when we analysed his site, we discovered that the key word that he was ranked #1 for only attracted about 10 searches per month.
It turns out that when he signed on with them, this SEO company guaranteed him that he didn't have to pay a thing until they got him a number 1 ranking, which they achieved; they just failed to mention that the keyword they were going to get him to #1 for, was a keyword that wasn't actually going to drive any business to his site!
He decided to move his business across to us because with no lock in contracts, it wasn't a risk for him to sign on with us, knowing that he could walk away this time if he wasn't happy. Since he joined us, we've been working on a mix of high and medium value keywords, targeting words that we can get quickly in order to start driving business his way while we go after the high value words that, while more commonly used in searches, will take longer to rank for.
Client 3
This client came to us more to confirm that his current SEO provider was doing a good job than because he really wanted to change. While he hadn't seen an increase in traffic or business, he could see that his SEO company was building a lot of links and optimising his website for certain key words.
These links, when analysed by our software, were identified as being potentially toxic. We discovered that his SEO company was using free directory submission pages to build his links, which is a big no-no in the new world of Search Engine Optimisation. Search Engines often regard these types of links as spam, meaning that it was likely Google would penalise the client for these links, impacting his search engine ranking and, worst case scenario, getting his site black listed with the search engines altogether!
In addition, we discovered that the SEO firm wasn't just using a low value keyword, they had made up a whole new one (which also happened to be grammatically incorrect – a personal pet hate!) and ranked him #1 for it so that he had to start paying them their monthly fee. Even though it's highly likely that they were the only ones entering it into Google!
Unfortunately, this client was locked in to a contract that didn't end for another couple of months – it was a very long wait for him (and, I should imagine, a very frustrating one – having to pay a company that he knew wasn't giving him what he was paying for) but now he's come on board and loves our transparent reporting.
These aren't the only horror stories we've heard, but they're 3 of our 'favourites' and they demonstrate a few things to look out for when you're choosing an SEO company.
Look for a company that is transparent and collaborative.
Make sure that if your SEO guru is choosing your keywords, they can tell you why you want to target that keyword – make sure it's worth it! They need to be able to show you how many people are searching for that term, on average, a month, especially if gaining page 1 for that term means that you have to start paying.
Not all links are created equal, some can actually damage your site ranking, so make sure your SEO provider is creating quality Australian based (depending on your business – some of you may wish to target overseas markets) links.
Beware of any company that

Guarantees you #1 ranking or
Doesn't charge you until you reach page 1 – there's a very good chance that they're going to rank you for keywords that don't really exist.

If your SEO company doesn't

Create and add Google analytics to your website
Create a site map for your website,
Add robots.txt to your website,
Add you to Google Business,
If your site is new, submit it to Google, Bing & Yahoo or
Ask you for your website log in details then run – don't walk – away as they clearly have no intention of actually doing any SEO work on your site.

Beware of lock in contracts, companies will hold you to them if it is financially beneficial to them to do so.
If you're looking for a transparent SEO company that believes in client education, why not contact us to discover how Agile SEO can help you grow your business.